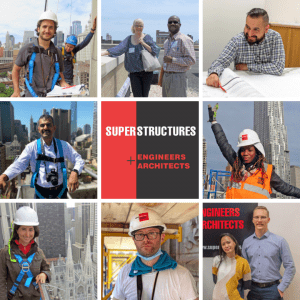 "The firm has every reason to celebrate its expertise in professional A/E services for exterior restoration, but is not content to rest on its laurels. It continually looks for ways to bring the practice into the 21st century."
This anonymous Glassdoor review from a current member of our team attests to the firm's reputation, but also to its vision of continuous improvement. SUPERSTRUCTURES strives to be at the forefront of innovation in our field, setting standards for the clarity of our drawings and for our proprietary software tools and methods.
All this is accomplished within our seven studios. These teams are focused on specific projects, while having the resources of the entire firm—including our Non-Destructive Testing and Tech Studios—at their disposal.
Does this kind of professional environment pique your interest? Get in touch.