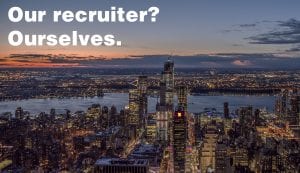 From the job seeker's point of view, the services of a recruiter (a.k.a. "headhunter") might appear to be free.
But recruiters charge prospective employers a lot to place a candidate in an architecture or engineering firm. We'd rather dedicate those funds to building, supporting, and compensating our team. Plus, as an acknowledged leader in our field, we know the qualifications we value better than any recruiter could.
For candidates with aptitude and an inclination that aligns with our mission, our reputation and direct outreach are the only recruitment tools we need.
As a leader in exterior restoration in the New York region, we're a destination for architects and engineers who want to restore world-class buildings and keep the practice where it belongs: in the 21st century.
Referrals from our own staff have been our best source of new talent, contributing to the collegiality of our team. That's the best indication we know that SUPERSTRUCTURES is a great place to work and build a career.
What do we offer? The resources of a large firm with the collaborative culture of smaller studios. Opportunities to use technology like high-definition imaging, drone-assisted inspections, artificial intelligence, and digital asset management, together with the benefits and the advancement potential of a thriving company.
So don't go looking for SUPERSTRUCTURES in any recruiter's portfolio; you won't find us there. Instead, visit our Careers page to apply.