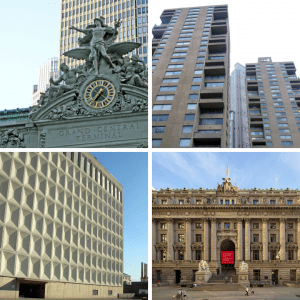 Clockwise from top left: Grand Central Terminal, Chatham Towers, The Alexander Hamilton U.S. Custom House, and Meister Hall at Bronx Community College
When you think of historic buildings, a few things probably come to mind: centuries-old architecture, monumental public spaces, and Presidents' mansions.
Those are reasonable examples, but at SUPERSTRUCTURES, we treat every project with the same precision and thoughtful restoration strategy, whether the building is 20 years old or 200 years old.
In New York City, a mental inventory of historic buildings might extend to ionic 20th century structures like the Empire State Building or Grand Central Terminal. SUPERSTRUCTURES has worked on those landmarks and many other buildings of historical significance.
We're well versed in the complexities of preservation, where every detail must be impeccably matched, often with oversight by a governmental or preservation organization. Such work by the firm has been honored with multiple Lucy G. Moses Preservation awards—the "Oscar" of the preservation community.
In New York, there are at least three layers of landmark designation: New York City Landmarks, New York State Historic Sites, and National Historic Landmarks. Some buildings in the city check two or more of those designation boxes. But there are many other structures with historic merit that may not be officially landmarked—so are they "historic?"
With this complexity of building pedigrees, SUPERSTRUCTURES has made the logical choice: don't discriminate. Treat every building with the same care, respect, and innovative approach that's made us an industry leader, with more exterior restoration projects than any other firm in the region. For our seasoned team of architects and engineers, reinforced concrete and curtain walls are just as worthy of restoration as the ornate 19th century facades.
For that matter, the utilitarian buildings of today may be the landmarks of tomorrow. Unsung structures like Chatham Towers, a rare example of a truly "Corbusian" building in New York, have their place in history along with Trinity Church and the Alexander Hamilton U.S. Custom House. Who's to say which will be favored with landmark designations in the future?
At the end of the day, we recognize that every building, despite its architectural or historic merits, is important to its owner and its occupants. So SUPERSTRUCTURES doesn't offer one standard of practice for landmarked buildings and another for everything else.
While we're attuned to the gravity and complexity of working on historic buildings, we don't discount the responsibility—and challenge—posed by buildings of any era.