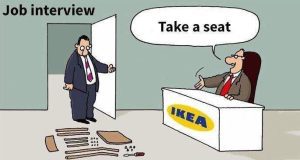 Along with Swedish meatballs and a maze-like showroom, the IKEA experience means flat-packed furniture that you assemble yourself. You save money and receive a bit of handyman satisfaction (and a collection of Allen wrenches). But the process of assembling a series of IKEA products—like a set of eight dining chairs—comes with its own learning curve, one that illustrates the acquisition of expertise.
Once you've completed that first chair, you may find yourself holding a stray part of two, searching back through the intuitive instructions for what you missed. But after assembling a few more, you stop looking at the booklet and may even start thinking of design improvements to drop in the IKEA suggestion box.
We mention this because our experience with investigating building envelopes, mastering their interconnected assemblies, and designing restoration solutions is similar. Having conducted thousands of restoration projects, SUPERSTRUCTURES' expertise is the culmination of refinement and specialization.
Not that our practice becomes rote; each new project presents fresh challenges. But the process of tackling hundreds of past projects benefits all those to come, helping to assure efficient, on-time, and on-budget projects for our clients.
Does our approach to restoration pique your interest? Come work with us!