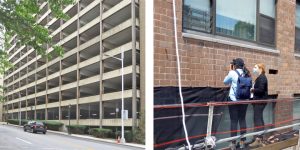 Habitat magazine continues to characterize parking garages as "the new facades" with regard to their required inspections. They've raised alarms that city-mandated garage condition assessments are synonymous with periodic facade (FISP/LL11) inspections, but this equation is misleading. The comparison is reasonable to the extent that both facades and parking structures are subject to deterioration over time and mandatory inspections, but they also differ in important ways.
Facades are constantly exposed to the elements, whereas most parking structures in the five boroughs are protected below grade. Many facades are more than 100 years old, and often incorporate relatively fragile materials (think terra cotta), while most parking garages are half that age (or newer). As horizontal structures, garages are more easily inspected—using a step ladder instead of swing staging or platform lifts.
So in most respects, garage inspections in New York City will be more easily accomplished—and potential defects more easily addressed—than their facade counterparts.
Whether you own a below-grade garage in Manhattan or a free-standing parking structure in Brooklyn, here's our advice:  Be proactive in getting your garage inspected and repaired now. When the time comes, you'll be able to file a "clean" report and avoid the inspection rush and repair headaches when demand will be high.
For more on the update to the NYC Building Code mandating garage condition assessments (Article 323), see our previous post.
For more information, please contact us via our website, email us at parking@superstructures.com, contact principal Vikrant Sampat, PE at vsampat@superstructures.com, or phone us at (212) 505-1133.