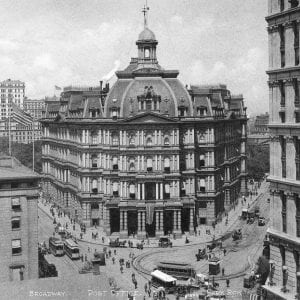 In the early days of New York City, the nascent U.S. Postal Service (USPS) operated out of makeshift locations such as Middle Dutch Church on Nassau Street. That provisional arrangement changed with the completion of the grand, Second Empire-style City Hall Post Office (Alfred B. Mullet, 1880, demolished, 1939). Since then, New York has erected several landmarks to the time-honored USPS, from Romanesque Revival to Art Moderne edifices. SUPERSTRUCTURES has had the privilege of preserving two such landmarks: The Grand Central Post Office and the Conrad B. Duberstein U.S. Bankruptcy Courthouse, which incorporates a post office.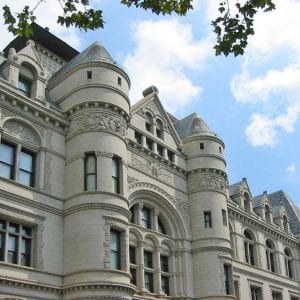 Begun in 1892, the Duberstein Courthouse in downtown Brooklyn is a National Historic Landmark. More than a half-million square feet, the Romanesque Revival building occupies an entire city block. The restoration project included terra cotta and granite facade repair and replacement of the slate roof and windows. The U.S. General Services Administration used a partnering approach in which the design team, construction manager (CM), and contractors worked together to restore the building. As a commissioning agent on the CM team, SUPERSTRUCTURES reviewed investigation reports and construction documents and provided full-time, on-site commissioning inspectors aided by the firm's proprietary Asset Information Management (AIM) system. The project was awarded a Lucy G. Moses Preservation Project Award for 2014 by the New York Landmarks Conservancy, and a GSA Design Award—Citation in Preservation for 2016.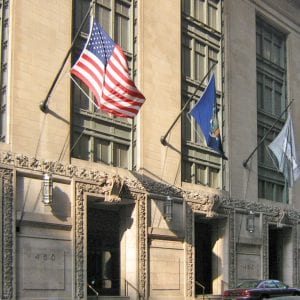 Across the river in Manhattan, SUPERSTRUCTURES conducted a Local Law 11 investigation and provided design and construction administration to restore 450 Lexington Avenue. The site incorporates a 32-story office tower (David Childs of SOM, 1992) constructed above the Grand Central Post Office (Warren & Wetmore with Reed & Stem, 1914), a New York City Landmark. Restoration work for Murray Hill Properties included granite and limestone repointing and repairs, glass replacement, and patching to the cornice and columns of the post office.
Survey similar projects here.