Lucy Moses Award for Restoration of Historic New York City Public High School
SUPERSTRUCTURES is delighted to announce that once again one of our projects is being honored by the New York Landmarks Conservancy with a Lucy G. Moses Preservation Award – for the tenth time! The award will be presented on April 23rd in recognition of the exterior restoration of George Westinghouse Career and Technical Education High School in downtown Brooklyn.
Completed in 1908, the original building is attributed to architect C.B.J. Snyder, the noted architect and Superintendent of Buildings for the New York City Board of Education who contributed so many innovations in school design. In High English Collegiate Style, Westinghouse High's architectural flourishes are inspired by the great colleges of Oxford and Cambridge. As with other Snyder schools, its architectural, educational and civic importance in Brooklyn history is undeniable.
The exterior restoration project completed in 2018 addressed several major building components. Key among them was the ornate parapet which crowns the building with a detailed ornamental outline containing small pointed arches, large gable outlines, and ornate tracery. The entire street facing parapet was reconstructed, matching original materials in shape, color and texture. Another highlight of the project was restoration of the arched Guastavino tiled ceiling in the Tillary Street loggia, which had been damaged by water infiltration from above. Work also included roof replacements and repair of exterior masonry.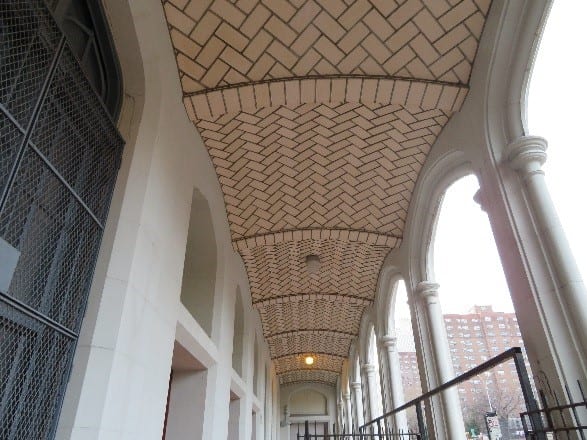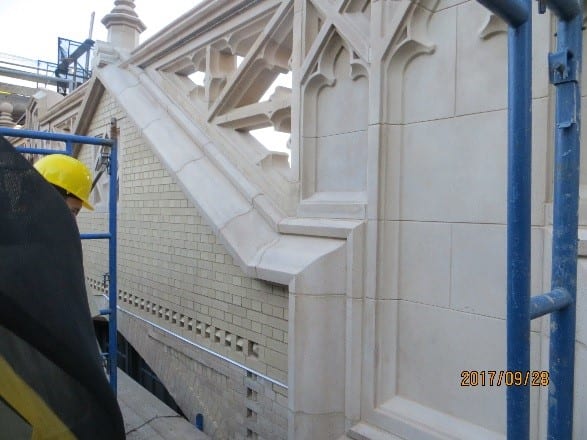 Historically, the school was called P.S. 5K, until the construction of an addition building in 1963. At that time, the school was renamed George Westinghouse High School, after the great American engineer George Westinghouse (1846-1914), a prolific inventor with over 300 patents to his name, among them the air brake system which revolutionized the railroad industry.  Today, the school is known for its recent alumni, among them some of the most notable names in hip hop, including Jay-Z, Busta Rhymes, DMZ, and Notorious B.I.G. It has recently been divided into three smaller schools, all focusing on some aspect of a future career in technology.
SUPERSTRUCTURES provided investigation, design and construction administration services for the restoration.