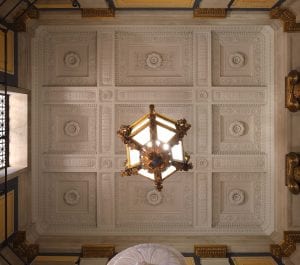 While the majority of SUPERSTRUCTURES' work is on building exteriors, we're not exclusively "outdoor types." We've undertaken challenging interior investigation and restoration projects as well. Two notable examples are McKim, Mead, and White buildings on the Columbia University campus: Low Library and John Jay Hall. Both involved a familiar material of Beaux-Arts architecture: plaster.
Despite plaster's enticing ability to reproduce the motifs of antiquity, it has two major enemies: structural movement and water infiltration. The latter, which can cause efflorescence or complete disintegration of plaster elements, proved to be the most formidable foe in the Columbia buildings.
Low Library boasts an elaborate ceiling plan of plaster ornamentation which, to varying degrees, was showing its age. SUPERSTRUCTURES conducted an extensive investigation of these ceilings, producing condition survey diagrams detailing three sizes of cracks and many examples of deterioration.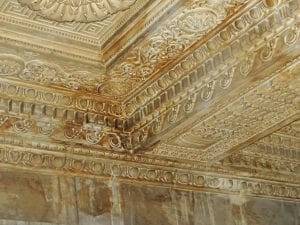 Our investigation used probes, visual inspection, and "sounding" (gently tapping surfaces with a mallet). While we found some sections of Low's ceilings to be in relatively good shape, the foyer ceiling had suffered the most. The culprit: a leak originating on the level above the entry, observed first hand during our on-site observation.
Across the Columbia quad, the plaster dining room ceiling of John Jay Hall (McKim, Mead, and White, 1929) is a more restrained rendition of neoclassical decoration with issues similar to the library's. Again, water infiltration—this time from a pipe a contractor had cut on the top floor—was the main source of deterioration.
In this case, our challenge was to completely recreate decorative elements for a central area of the ceiling. Above a temporary drop ceiling that had been added to cover the damage, little detail remained. The original acanthus-leaf cornice border—a motif found nowhere else in the building—had been completely lost. To extrapolate it, we looked to photographic evidence and clues from extant sections of the ceiling's perimeter.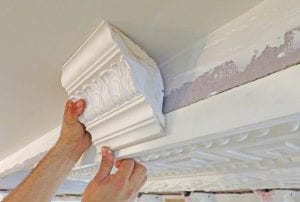 Both of these projects underscore the imperative to stop water infiltration in order to preserve historic plaster interiors. SUPERSTRUCTURES has the expertise to assess the condition of plaster elements and prescribe their restoration, but we can also help head off water infiltration problems before they do damage.
Survey similar projects here.