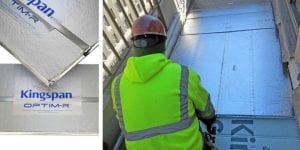 Always at the forefront in the use of new materials and technologies, SUPERSTRUCTURES was the first firm in New York City to specify Vacuum Insulated Panel (VIP) insulation in a roof restoration project for NYU's Carlyle Court Towers.
Current NYC energy code requirements mandate a minimum continuous insulation value of R-30 on the entire roof deck. Using conventional insulation to achieve this value can raise roof heights to a problematic level, impacting adjacent building components such as mechanical equipment, parapets, and skylights.
VIPs, which incorporate a vacuum to inhibit heat transfer heat, offer a much thinner alternative to standard insulation in achieving the required R-30 rating. In fact, VIPs have about one-fifth the thermal conductivity of conventional insulation, and therefore about five times the R-value per unit thickness.
Kingspan Insulation recently featured SUPERSTRUCTURES' work in their article about the application of Optim-R VIPs for another NYU facility—726 Broadway. At Carlyle Court, setback terraces presented a challenge in terms of achieving code requirements. The insulation thickness in the existing roofing system was minimal and existing doors and through-wall air conditioning units were very low. Thus, use of traditional insulation to achieve an R-30 value wasn't feasible. VIPs to the rescue.
For both NYU projects, VIPs offered a route to energy code compliance without the complications of raising the roof. The solution also came at a significant cost savings to the buildings' owner.