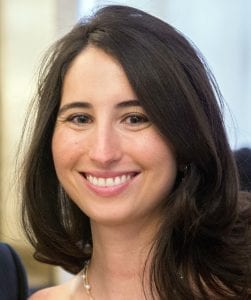 Congratulations to SUPERSTRUCTURES' Sabine van Riel, RA who has been promoted to Senior Associate. This promotion is a direct reflection of Sabine's professional stature and invaluable contributions to our success. She's held in high regard by her coworkers, by her colleagues in the profession, and by the firm's prestigious clients.
Looking back at her 14 years with the firm, Sabine notes how our SCA projects and reporting have evolved and the challenges of keeping up with changing demands and industry standards. She also reflects on her hands-on experience with NDT&E methods, which have evolved over the years, and on the expansion of FISP requirements and our capacity to meet them.
A favorite project from Sabine's experience was 62 East 4th Street, where we were able to recreate the cornice on the restored parapet with very little historic evidence. Good cooperation among the contractor, the facility, and the client made the project a pleasure. Another of her favorite projects was the facade restoration and gable reconstruction of 10 East 75th Street, which involved working with John Grande's studio to resolve structural issues and a contractor who executed the work meticulously well.
Sabine adds that forming a solid studio with great talents has been the biggest joy of her past three years as studio head. When not working on SUPERSTRUCTURES projects, she's busy chasing after her energetic toddler.