Located in what was designated by the City as the NoHo historical district in 1999, both buildings are in the Renaissance Revival style.  The district's location in Greenwich Village is famed worldwide for its heritage architecture.
The buildings are now slated to serve as interim fitness and recreation facilities while New York University builds a new structure for the purpose.
The work.
SUPERSTRUCTURES' job was to restore the facades of both buildings, as well as repair the roof.  Also implicated was examining and repairing the structural components, replacing stair bulkheads and tracking and resolving leaks.  Finally, extensive waterproofing was done.  Windows will be repaired in a separate, ongoing project.
Work on the Broadway building included restoration of the character terra cotta cladding, as well as material restoration of brickwork.  Window sills were replaced and the fire escapes repaired, in order to return this building, not only to its former glory but to a condition more amenable to public use.
The Lafayette building, like its sister structure on Broadway, required parapet reconstruction, and sill replacement and extensive restoration related to waterproofing.
Before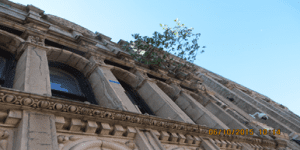 After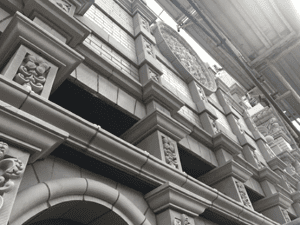 Art meets science.
At SUPERSTRUCTURES, engineers join with architects to preserve buildings and infrastructure.  By uniting the power of our twin disciplines, we create the conditions required to maintain key edifices by restoring both their appearance and structural integrity.
In the case of the building at 708 Broadway, the services of a company prepared to work with landmark terracotta were required.  This material was extensively used in buildings of the late 19th Century.  Preserving the material allows for continuing appreciation of the buildings it was used to create.  Invested with significant historical value, terra cotta is one of many materials SUPERSTRUCTURES works within our restorations.
Curtain wall systems and reinforced concrete are two widely employed elements we have significant expertise in restoring.  Since 1981, we've been managing projects with exceptional attention to and control over cost and schedule.
When art meets science, the results are outstanding restorations which preserve the unique and distinct presence of buildings and infrastructure in need of detailed professional attention.
Pride in preservation.
Having realized thousands of projects over our almost 40 years in the business of exterior restoration, we take pride in our mission.  Because we're sticklers for cost and scheduling controls, our project management expertise has gained us more restoration contracts than any other firm in NYC.
Our clients demand the very best. That's what we bring to every restoration project we do.  Our exacting standards meet their demands.   There's no question that retaining us guarantees a superior result.  And that's the word on the street, all over the city.
SUPERSTRUCTURES was proud to be involved in the two-year façade project, restoring the Broadway and Lafayette buildings and helping to preserve New York City's architectural heritage.  Contact us for excellence in restoration.