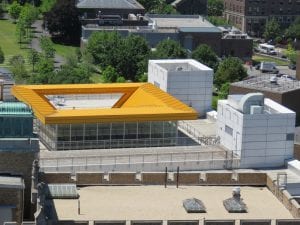 Every roof has a utilitarian role to play. They serve as a building's first line of defense against the elements, shielding the rest of the structure from water infiltration. But some roofs are more architecturally significant than others. Take, for example, that of City College's Spitzer School of Architecture, site of a recent SUPERSTRUCTURES project. Part of a 2009 renovation of the College's former Cohen Library (built in the late 1950s), the Spitzer roof features a bright yellow-clad amphitheater used for programs in fair weather—a design element that has become a symbol of the school itself.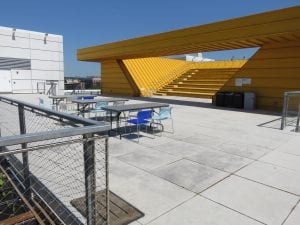 SUPERSTRUCTURES' work on the Spitzer School's roof comprises two phases: temporary repairs to arrest active water infiltration, and a subsequent restoration which will preserve the iconic form and color of the amphitheater. Through a series of probes on the roofing system and flashing and analysis of the roof's design, SUPERSTRUCTURES' investigation found sources of water infiltration related to the slope of the sheet metal cladding, the underlayment, and waterproofing transitions.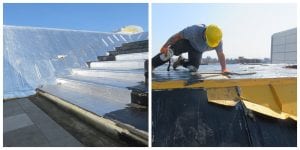 Our interim repairs included removal of the existing amphitheater cladding and waterproofing and installation of a temporary layer of foil-faced, SBS modified bitumen waterproofing to protect the building until full replacement starts. Water-damaged sections of substrate board in the amphitheater were replaced in the process. This phase also included removal and replacement of some sections of the surrounding flat roofing system.
The replacement roofing system to fully refurbish the amphitheater in phase two is a liquid-applied membrane waterproofing covered by a metal rain-screen cladding system to fulfill the School's priority of maintaining the 2009 design. With this approach, our work on the Spitzer School's roof will address both essential waterproofing function and desired architectural form.
Survey similar projects here.