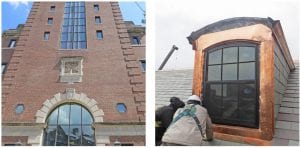 As discussed in this series of posts thus far, many of SUPERSTRUCTURES' roof projects in New York City are flat roof restorations that hinge on designing the right type of membrane. But we're also adept at restoring pitched roofs covered with standing-seam metal or slate shingles. A good example of the latter is our project for the Jewish Theological Seminary building (Gehron, Ross & Alley Architects, 1929, with later addition). It required a seasoned sensitivity to matching materials and precision in replicating copper components.
While not landmarked, the Seminary has been deemed eligible for listing on the register of historic places by the New York State Historic Preservation Office. The building's envelope consists of multi-wythe masonry walls with a face brick exterior above a limestone base. Each of the Seminary's roofs consisted of original slate shingles with dormer windows at regular intervals. SUPERSTRUCTURES provided investigation, design, and construction administration services for removal and replacement of the existing slate roofs, including all flashings.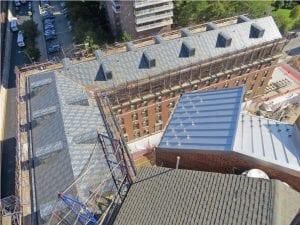 Work on the Seminary also included removal and replacement of cracked masonry units, restoration of steel lintels, and replacement of deteriorated limestone panels and limestone spall repairs. The original slate roof was a blend of gray, green, and purple slate, so we achieved a comparable blend in the new slates. A number of dormers were re-roofed to match the existing and special dies were created to ensure the new copper fascias were an exact match to the existing.
Survey similar projects here.