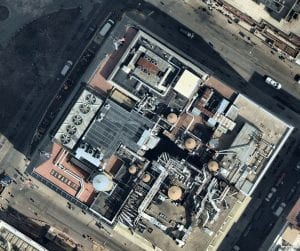 In our extensive experience with roof projects, we often encounter the challenge of working on occupied buildings, including schools, hospitals, and other structures with sensitive residents. But at NYU's Silver Center, we had to accommodate sensitivity of another sort: scientific experiments in progress in the building's labs. SUPERSTRUCTURES' project to restore the roof in two sections of the 11th floor called for a design that could be stealthily installed and replacement materials that were odor free.
Originally New York University's "Main Building" designed by Alfred Zucker and built in 1892, the facility at 32 Waverly Place was renamed the Silver Center for Arts & Science in 2002 in honor of its benefactor, Julius Silver. Today, it houses the College of Arts & Sciences as well as the Grey Art Gallery on the ground floor. Our investigation of the building's main roofs confirmed that they were failing, their insulation saturated from water infiltration, as evidenced by multiple patches over the years.
To maintain the integrity of the research in the Center's labs, our solution retained the built-up bottom layer of the existing roof to minimize noise and vibration. In place of the failed layers, we specified a custom sandwich consisting of polyisocyanate insulation, gypsum board, liquid-applied membrane, and polystyrene insulation, topped with architectural pavers. All this had to be installed within a relatively low flashing condition and around an extensive array of existing mechanicals.
NYU was pleased with our solution and its execution by Skyline Restoration, such that we're now in the investigation stage of Phase 2, the Silver Center's lower roofs. Here, as with all our roofing projects, we designed solutions to keep disruption to building occupants and activities to a minimum.
Survey similar projects here.