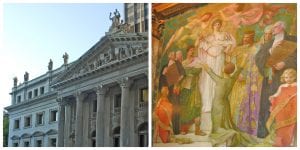 On this day in 1981, the New York City Landmarks Preservation Commission designated interior elements of the Appellate Division Courthouse of the State of New York (James Brown Lord, 1899) as an official New York City Landmark. SUPERSTRUCTURES participated in a restoration project which included the historic murals of this interior, work that was honored with a Lucy G. Moses Preservation Award from the New York Landmarks Conservancy (our eleventh "Lucy" overall and the eighth in the past ten years). The courthouse itself was previously landmarked in 1966.
Amanda Park, SUPERSTRUCTURES' Senior Conservator, was cited for her work on the murals in the courthouse's main hall and courtroom. Created by ten notable artists associated with the National Society of Mural Painters, they depict allegorical and historical figures of law and justice. The Courthouse's comprehensive decorative scheme includes marble walls and pilasters, art glass windows, Herter Brothers-designed furniture, and the mural series executed by Edwin Blashfield and Kenyon Cox, among others. Given the murals' prominence in the lobby, along the staircases, and along the courtroom walls, they are certainly integral to the historic and aesthetic significance of the courthouse as a whole.
Survey similar projects here.