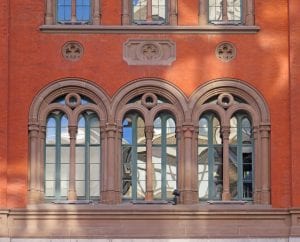 On this day in 1850, the cornerstone was laid for the Astor Library on Lafayette Street in Manhattan, which 115 years later would become a New York City Landmark and home to the Public Theater.  SUPERSTRUCTURES performed a condition assessment of the building's exterior envelope, stage rigging structural components, and interior plaster ceilings of its three performance spaces: the Martinson, LuEster and Anspacher theaters.
Funded by multi-millionaire John Jacob Astor, the Library was designed by Alexander Saeltzer in the popular Rundbogenstil (round-arch style). The building was expanded in 1859 and 1881, later merging with two other collections to form the New York Public Library (NYPL). With the completion of its new building on Bryant Park, the NYPL vacated the building in 1911. By 1965, the former Astor Library was abandoned and facing demolition. Fortunately, championed by Ada Louise Huxtable, it became an early example of adaptive reuse under the auspices of the City's 1965 Landmarks law. The building was converted into a theater by Giorgio Cavaglieri, becoming the home of the New York Shakespeare Festival—now the Public Theater—in 1967.
SUPERSTRUCTURES' condition assessment was completed in March, 2018. Currently, the firm is working on a structural design to support the rigging in the Anspacher Theater. We're proud to contribute to the preservation and renewal of this vital feature of New York's cultural landscape.
Survey similar projects here.