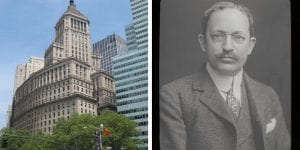 On this day in 1860, architect Thomas S. Hastings was born in New York City. Together with his design partner, John Merven Carrère, Hastings would make his mark on the city with structures such as 26 Broadway, originally the Standard Oil Building (1885-1928). SUPERSTRUCTURES conducted a survey of structural steel in the 31-story New York City Landmark to facilitate renovation of the building's first floor.
Because existing framing plans for two floor sections of the building were incomplete, SUPERSTRUCTURES was tasked with mapping all structural beams in those areas. Despite the presence of reinforcement bar in the concrete floor slabs, ground penetrating radar (GPR) was able to distinguish bar from beam, even when the two were overlapping. GPR was effective in the 1928 section of the building, but the technique was impeded in the 1890 section by cinder concrete under the topping slab. As an alternative, a covermeter was used to detect floor beams in the older section. SUPERSTRUCTURES prepared a report for the building's owner, the New York City School Construction Authority, including drawings illustrating all observations.
Remembered for his legacy of elegant Classical Revival buildings from New York to Toronto, Hastings is also commemorated by Frederick William MacMonnies' bust in the New York Public Library—another of Carrère & Hastings' iconic landmarks.