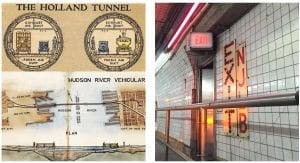 On this day in 1919, the U.S. Senate passed a bill giving New York and New Jersey the right to enter into a compact for the joint construction of the Hudson River Tunnel—better known today as the Holland Tunnel. SUPERSTRUCTURES completed a survey of the tunnel to locate and quantify areas of missing or visibly loose wall tile, identifying 4,095 SF of tile in need of replacement. Approximately 85% of this tile was already missing, and the rest required removal. SUPERSTRUCTURES provided an additional findings report with recommendations for repair of other conditions, and subsequently provided design and construction administration services.
The Hudson River Tunnel was renamed in honor of Chief Engineer, Clifford Milburn Holland (who died in 1924 before the tunnel was completed). Coincidentally, the name is also a nod to New York's Dutch history. The 1919 bill that made the tunnel possible was introduced by Senator Walter Evans Edge (R, NJ), initiated when he was Governor of New Jersey. He sponsored the enabling act soon after he arrived in Washington, paving the way for the vital crossing that's still essential to regional travel and commerce today. Begun in 1920 and completed in 1927, the tunnel was the first vehicular passage under the Hudson (preceded by railway tunnels) and the longest continuous underwater vehicular tunnel in the world at the time of its opening.
Survey similar projects here.