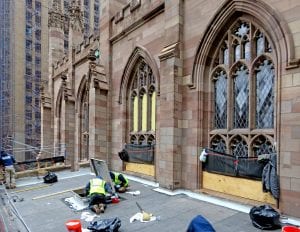 On this day in 1802, Richard Upjohn, designer of several notable Gothic Revival churches throughout the U.S., was born in Shaftesbury, England. SUPERSTRUCTURES conducted a restoration of the roofs of Upjohn's New York masterpiece, Trinity Church, and the firm's new office is just steps away from this National Historic Landmark.
SUPERSTRUCTURES' restoration addressed three of Trinity's roofs: the north aisle upper roof, the south aisle upper roof, and the connector roof. The scope of work included removal and replacement of the existing built-up roof with a new Siplast fluid-applied membrane, flashing, and copper gutters; restoration and soldering of the existing copper and Monel roof flashings; re-pitching of the slab; and removal and replacement of roof drains at the connector roof.
Having emigrated to the U.S. in 1829, Upjohn became a citizen in 1836 and settled in New York City three years later. He began working on alterations to the existing Trinity Church—the second church on the site at the time—but that project was scrapped in favor of a completely new design by Upjohn. Completed in 1846, it stands to this day on Broadway at the head of Wall Street, 19th century counterpoint to the towers that surround it.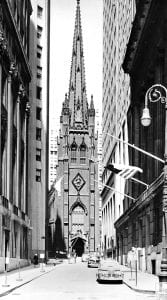 Less than a block from our new office is another nod to Upjohn: a plaque at 111 Broadway commemorating the founding of the American Institute of Architects in 1857. Upjohn was a founding member and first president of the AIA. The plaque is on the site of his New York office, to the north of Trinity's churchyard.
Survey similar projects here.