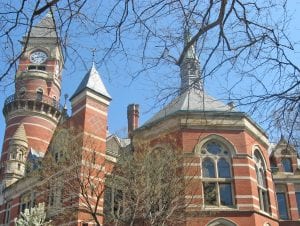 On this day in 1828, Frederick Clarke Withers was born in Somersetshire, UK. Withers immigrated to the US and became a prominent practitioner of Gothic Revival architecture. The Jefferson Market Courthouse—since converted to a branch of the New York Public Library—is one of Withers' most celebrated designs and the subject of SUPERSTRUCTURES' extensive restoration.
One of the most beloved landmarks in Greenwich Village, the Jefferson Market Branch Library is widely considered one of the finest Victorian Gothic buildings in the United States. The building is not only prized for its original rendition of the Gothic Revival, but as one of the first examples of an adaptive re-use project in the United States–a veritable landmark in the history of landmarks. Given this context, SUPERSTRUCTURES' exterior restoration project sought to preserve both stages of the building's development as being historically important. The firm provided comprehensive investigation, design, and construction administration services for the complete exterior restoration, as well as investigation of key structural issues. This project received a Lucy G. Moses Preservation Award from the New York Landmarks Conservancy in 2014.
Survey similar projects here.