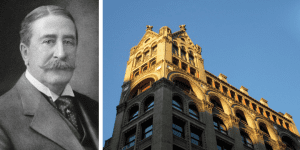 SUPERSTRUCTURES conducted an exterior restoration of one of Robertson's New York masterpieces, the MacIntyre Building (1892) at 874 Broadway in the Ladies Mile Historic District. This restoration earned the firm a Lucy G. Moses Preservation Award. Happy birthday, Robert Henderson Robertson (not to be confused with Robbie Robertson of The Band).
Robertson favored the Richardsonian Romanesque for his many church, institutional, and commercial buildings. In the MacIntyre Building, he outdid even Richardson in freely mixing historically inspired elements, resulting in what the AIA Guide to New York City called an "unspeakable eclectic." While one can take exception with the guide's "unspeakable" characterization, the building's facade is certainly a distinctive blend of Romanesque, Gothic, and Byzantine revival elements with a profusion of ornamentation inspired by Robertson's singular reinterpretation of these architectural eras.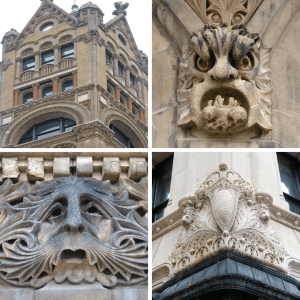 SUPERSTRUCTURES' restoration of the building addressed the integrity of its masonry facade as well as its clay tile and copper roof. The facade is a rich combination of brick, polished granite, marble panels, carved limestone, bluestone, and terra cotta units, with windows framed in cast iron. Each of these materials presented a variety of deteriorated conditions in need of repair. In the facade assessment phase of the project, each defect was individually identified and documented.
Repair methods included pinning, patching, crack injection repair, and replacement in kind. Whenever possible, the original materials were conserved in situ. In instances where masonry had deteriorated beyond repair, molds were made and new cast stone was installed to restore the landmark to its original, eclectic splendor.