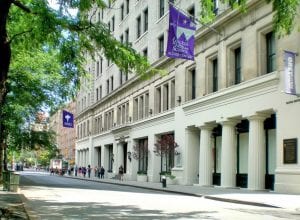 On this day in 1831, New York University (NYU) received its charter from the New York State Legislature and was incorporated as the University of the City of New York. Now a world-class institution with many notable alumni, NYU's main campus in Manhattan comprises more than 5 million square feet of space in buildings dating from 1835 to today. SUPERSTRUCTURES has a long-standing relationship with the University, executing several projects since our first in 1996.
SUPERSTRUCTURES' work for NYU runs the gamut from a challenging roof restoration on the Silver Center—the original building in the University's main campus—to a restoration and facade cleaning of Philip Johnson's red sandstone-clad Bobst Library. We have also restored numerous sidewalk vaults on the NYU campus, and conducted a comprehensive restoration of 404 Fitness, the University's fitness center in conjoined buildings at 404 Lafayette / 708 Broadway. The firm looks forward to future projects that help preserve and restore the facilities of this iconic New York center of higher education.
Survey similar projects here.