A recent article by a fellow practitioner paints the sidewalk vaults of New York City as lurking hazards lying in wait, ready to swallow up unsuspecting cars or pedestrians. (We exaggerate, but only slightly.)
In reality, partial or total vault collapses are a rare occurrence. On the other hand, since many sidewalk vaults are over one hundred years old, building owners and property managers can't afford to ignore their inspection, maintenance, and when required, their restoration.
What is a Sidewalk Vault?
A sidewalk vault is that portion of a building's cellar that extends beneath a city sidewalk. Years ago, a sidewalk vault expedited delivery and storage of the coal that powered the building's boiler. Today, sidewalk vaults are used to store items for residents, equipment for the building, or are simply ignored.
Typically the vault sits below a four-inch thick concrete wearing slab (the sidewalk), a waterproofing membrane (sometimes), and a structural slab (masonry arch, reinforced concrete, metal deck, or some combination). The supporting structure generally comprises a steel beam and column framework, with concrete or masonry exterior walls.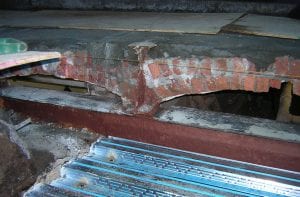 Vault Failure
As with any component of the building envelope, water is the enemy. Once water finds its way into the vault, either through the topping slab, waterproofing membrane, or major surface joints, the supporting steel framework is vulnerable to corrosion and deterioration. Left unchecked for a long period, portions of the frame could ultimately fail. A prudent maintenance program will arrest deterioration well in advance of failure.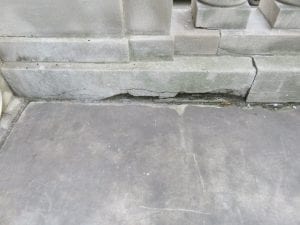 Our Approach
SUPERSTRUCTURES, as always, advocates a practical, methodical approach toward sidewalk vault evaluation and restoration. We:
Consult original building drawings and note any MEP equipment, public utilities and/or systems (e.g., the subway) within or around the vault.
Conduct a detailed visual inspection of the vault, inside and outside of the building line.
Survey elements of the vault's structural support system and assess the extent and degree of deterioration. We physically probe portions of the steel beams and columns, to identify locations where repair or replacement is required. At first glance, rusted steel often looks worse than it really is, because rust can expand up to eight times the volume of the steel from which it originated. Once the rust is removed and the underlying steel measured, the remaining cross section is often minimally reduced from the original.
Survey the existing flashing configuration and slope of the topping slab to ensure water is directed away from the building and its cellar.
Test the integrity of the existing waterproofing membrane (if any).
Test for the presence of hazardous materials such as asbestos.
Photographically document the work throughout the process.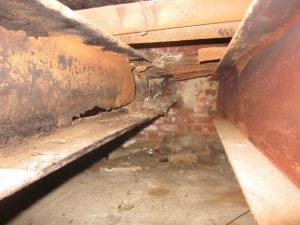 Once our initial assessment is complete, we formulate appropriate solutions and discuss them with the client. Some vaults present unique challenges that require us to combine our knowledge of fundamental principles with our extensive building envelope restoration experience.
After a restoration solution is agreed upon, construction documents are prepared. As is typical with our documents, we are meticulous about the details - making clear to the contractor the materials and configuration that constitute the finished product. Qualified, "vault-expert" contractors are invited to bid on the completed documents. After walk-throughs, bid submissions and interviews, the winning bidder is selected. We'll maintain a site presence during the critical construction operations.
Once the vault structure is restored, the topping slab is poured, followed by replacement of all traffic signs, handicap ramps, etc. that may have been removed during the project. Sidewalk expansion joints are installed, sealed and leveled in accordance with Department of Transportation code. If the building is of landmark status, the topping slab's color must be consistent with approved Landmark Preservation Commission colors, and any decorative aspects need to be restored as well.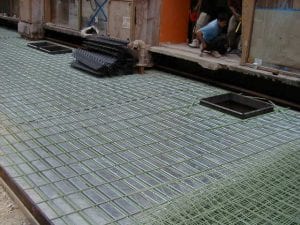 Restoration in Phases
If there are any mission critical spaces (i.e., ground floor retail/commercial space) or if the vault footprint is extensive, we typically break the project into phases, to minimize disruption to the client's operation. We'll specify prefabricated components or fast-curing repair compounds to expedite the process.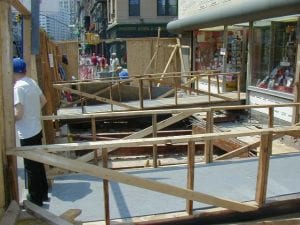 Hidden Upside
As a restoration project progresses, clients often discover practical new uses for a safe and dry vault. One residential building client decided to house additional electrical equipment in the vault. Another client turned the previously unused vault space into a bicycle storage room, which now generates income for the building. Once we were able to stop the persistent leaks in the vault of a major university, they used the space to house sensitive electronic lab testing equipment.
Ultimately, a reclaimed sidewalk vault can supplement the usable space within a building's cellar. So our vote - a well maintained vault is not a liability, but an asset, hiding in plain sight.