McCarren Park Pool in Greenpoint, Brooklyn was built as a WPA project in 1936. The building's vast scale and dramatic arches, designed by Aymar Embury II, exemplify New Deal architecture. Closed in 1984, the pool reopened in 2012 after a major refurbishment by the NYC Department of Parks and Recreation. SUPERSTRUCTURES' contribution to the facility's revitalization was a comprehensive investigation and analysis to address water infiltration through the building envelope. Materials testing included water absorption tests on bricks and mortar. Non-destructive testing included water deluge testing and infrared thermography mapping. A final report was submitted with recommendations for repair.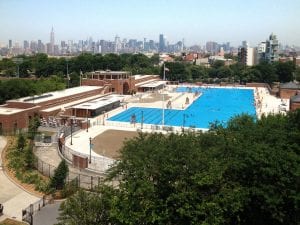 Photo: Marvel Architects, via NYC Urbanism
This post by NYC Urbanism gives a more in-depth history of the pool complex, including its role as a venue for shows by Sonic Youth and Brooklyn's own Beastie Boys. SUPERSTRUCTURES is proud to have contributed to the rebirth of this distinctive public asset.