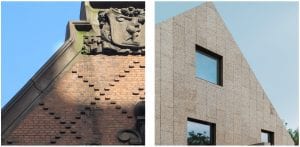 One of the strengths of SUPERSTRUCTURES' portfolio is that we've worked on the gamut of facades—from historic masonry to turn-of-the-century terra cotta to contemporary curtain wall and glazing systems. Each type of facade comes with its own set of challenges, adding to our arsenal of restoration assembly solutions.
Today, architects are innovating with surprising cladding systems and materials, from organic substances like cork to polycarbonate sheets layered like fish scales. Wallpaper Magazine's survey offers a look at these and other examples of the future of the building envelope.
Our question is: How will these experiments perform over time? Whether they rely on new materials or well-known materials applied in new ways, they're bound to require unique approaches to preservation—the kind of approaches we constantly develop. We're always learning and preparing for the challenges these futuristic facades may pose.