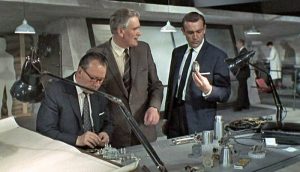 While we can't claim an armored Aston Martin or an exploding briefcase, SUPERSTRUCTURES does have one thing in common with James Bond's MI6: a Tech Studio.
We have seven A/E studios, each acting as a self-contained team, with access to the resources and expertise of the entire firm. Any one of our studios would be rated one of the best offices in the city, but they wouldn't be so successful without the eighth studio—Tech. It drives our firm-wide effort to be at the forefront of technology, developing and implementing digital tools to better manage projects and offer greater value and efficiency to our clients.
Like "Q" in the Bond films, our Tech Studio is devoted to developing hardware and software tools and techniques to support the work of the other seven studios. SurfaceCapture allows us to document facade conditions in high definition, while our Asset Information Management (AIM) mobile platform aids efficient recording of field observations.
The Tech Studio disseminates these tools among all our studios, so the technology they've developed is part of our everyday arsenal. The Q to our 007, our Tech Studio allows the firm to excel at projects few if any other offices can tackle.