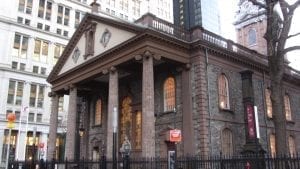 Lucy Moses Award for Restoration of "City's Greatest Architectural Achievement Prior to 1776"
For the sixth consecutive year a project by SUPERSTRUCTURES received the Lucy G. Moses Preservation Award from the New York Landmarks Conservancy. The award was presented at a ceremony on April 28th in recognition of the exterior restoration of St. Paul's Chapel, an historic church in lower Manhattan which is part of Trinity Wall Street parish. The Lucy Moses Award is the Conservancy's highest honor for outstanding preservation.
St. Paul's is among the very few 18th century buildings remaining in New York City, and is the most notable both architecturally and historically. It has been deemed one of the two finest examples of Late Georgian church architecture in the United States. Thomas McBean designed St. Paul's as a rustic interpretation of the famous St Martin-in-the-Fields in London, England.
The east and west porticos of the chapel, its clock tower and steeple were the focal points of the restoration. As preservation architect, SUPERSTRUCTURES provided design services that addressed masonry restoration, lead-coated copper steeple cladding, a plaster tympanum, clock faces and mechanics, and the wooden windows.
One goal of the project was to retain as much of the original building fabric as possible. After extensive research and discussion between the design team, the parish, and the New York City Landmarks Preservation Commission, it was decided to restore the building as much as possible to its condition as of 1929. No major alterations had occurred since then and it was the earliest period for which overall conditions could be reasonably be verified for a historically cohesive restoration.
Built between 1764 and 1766, with the spire added in 1794, the church has a history spanning that of our country. St. Paul's was used as the place of religious service following George Washington's inauguration in 1787. Funeral services for two Presidents, James Monroe in 1831 and William McKinley in 1901, were held there. In 2001 the church served as a refuge for 9/11 responders working at the nearby site of the former World Trade Center. Every day the church and its adjacent graveyard host visitors from around the world who are drawn by the history and architectural merit of this hallowed site.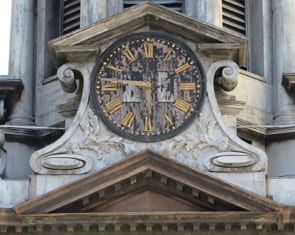 Before restoration.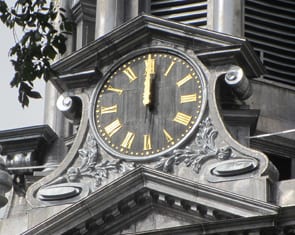 After restoration.
SUPERSTRUCTURES team members for the project were:
David May, RA, LEED AP – Executive Principal
John Galetta, RA, LEED AP – Principal in Charge
Matthew Cronin, RA – Associate / Studio Head
Margarita Pauliushchyk – Project Architect
Timothy Wynter-Stoner – Project Architect
Patricia Miller – Conservator
John Grande, PE – Project Structural Engineer
Alan Radvinsky, PE – Structural Engineer
Anna Kedrina – Project Architect
Eugene Shvartsman – Engineer
Klodian Pepaj – Engineer
Gabriel Haywood – Technical Coordinator
Diana Torres-Mella – Technical Coordinator
Niraj Rawal – Expeditor