SUPERSTRUCTURES was awarded a GSA Design Excellence Award - Citation in Preservation (2016) for the commissioning services performed on the restoration of the Conrad B. Duberstein U.S. Bankruptcy Courthouse. This is the second award the firm has won for this project, the first being a Lucy G. Moses Preservation Project Award (2014) from the New York Landmarks Conservancy.
Built in 1892 and 1933, the Conrad B. Duberstein U.S. Bankruptcy Courthouse in downtown Brooklyn is a National Historic Landmark. More than a half-million square feet, this Romanesque Revival-style building occupies an entire city block.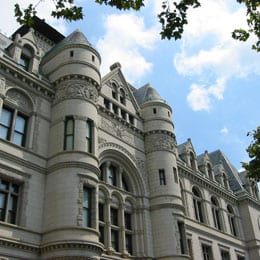 The scope of this project entailed terra-cotta and granite facade repair (75,000 square feet) and replacement of the slate roof (25,000 square feet) and windows (1,200).
During the three-year project, SUPERSTRUCTURES' team of skilled professionals deployed the firm's proprietary Asset Inventory Management (AIM) software into the field to facilitate the methodic recording of tens of thousands of inspections as they occurred, at discrete repair locations all over the building. The software tracked work progress, monitored quality, logged and managed the resolution of issues (deficiencies), and captured all the related photographs. AIM's graphic interface keyed each repair item to its physical location on the building, which ensured accuracy and efficiency as the data from the various inspectors was seamlessly integrated in the project database. Reports were generated directly from AIM. Examples included work progress reports, issue status reports, and closeout reports, all of which were distributed in summary and detailed format, and organized by work zone, as the project demanded.
SUPERSTRUCTURES was a member of the team led by Lend Lease, and worked with architect Goody Clancy and contractor Nicholson & Galloway Inc.
About the GSA Design Excellence Program
The GSA Design Excellence Program is the center for GSA's advocacy of quality in the federal built environment. It establishes nationwide policies and procedures for selecting the finest and most appropriate architects and integrated design teams for GSA commissions. The program also implements rigorous assessment processes to ensure enduring value in that work.