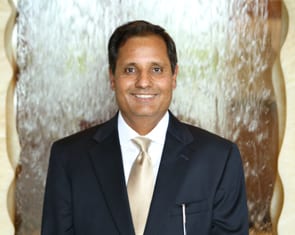 Vikrant Sampat, PE, was sworn in as president of The Society of Indo-American Engineers and Architects (SIAEA) on May 9th, 2015, for a two-year term.
The organization, which serves to unite engineers and architects of Indian origin and to foster their professional collaboration and growth, has over 1,000 members.  Mr. Sampat was sworn in by India's Deputy Consul General, Dr. Manoj Kumar Mohapatra.
During his 28 years with SUPERSTRUCTURES, Vikrant has been key in the growth of the company into New York City's leading firm specializing in exterior restoration and structural rehabilitation.  His restoration experience ranges from multi-building infrastructure projects to nationally significant historic landmarks.  His extensive experience is frequently sought out by project managers at both public and private clients.
The SIAEA oath ceremony luncheon event was well attended by a distinguished guest list which, in addition to Dr. Mohapatra, included New Jersey Senator Linda Greenstein, Mayor Peter Cantu of Plainsboro, and the majority of SIAEA's past presidents. They applauded SIAEA's accomplishments and recognized the commitment of the professionals of Indian origin in the United States, expressing their appreciation of the community's entrepreneurial spirit and wholehearted embrace of assimilation.
SIAEA has achieved many milestones since its founding in 1982, including awarding over $200,000 in scholarships to engineering and architecture students; creating opportunities for new professional relationships; sponsoring technical seminars; organizing networking events; and continually growing its membership base.  Mr. Sampat plans to take these initiatives further and introduce new ones.  He called upon the membership to participate actively and use its collective knowledge and expertise to empower India and make a difference in the United States.
Information on SIAEA's professional seminars and networking events is posted online at www.SIAEANY.org. Announcements were made for this year's upcoming networking events which include the Annual Gala on November 21st.  In keeping with Indian traditions of warm hospitality, the networking events and professional seminars are open to friends and families.