With thousands of SUPERSTRUCTURES' projects across the five boroughs, you don't have to travel far to find a building we've worked on. But a walking tour of our new neighborhood—the Financial District—offers a particularly rich cross section of structures we've helped restore, from historic churches to midcentury skyscrapers.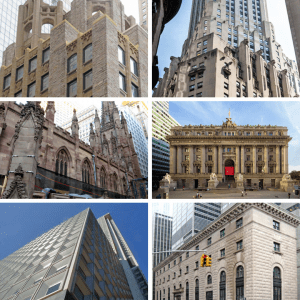 On Wall Street alone, a number of buildings have been subject to SUPERSTRUCTURES' work. At 11 Wall Street—home to the New York Stock Exchange—we provided special inspections of post-installed masonry anchors added to secure marble panels. Down the block, we conducted a FISP Cycle 8 examination of the distinctive Art Deco facade of 72 Wall Street, originally the Seamen's Bank for Savings.
Nearby at 20 Exchange Place—originally the City Bank-Farmers Trust Co. Building—the firm identified the cause of water infiltration in multiple sub-cellar levels of the building. Our restoration plan included repairing spalled concrete and installing a new, positive side waterproofing system to arrest future leaks.
With a short walk up and down Broadway, you'll find two historic churches from our portfolio: St. Paul's Chapel and Trinity Church. At St. Paul's, the oldest extant church in New York and a National Historic Landmark, SUPERSTRUCTURES directed a preservation program that won a Lucy Moses Award in 2015. Our work on Trinity Church included roof replacements, preserving the storied structure for generations to come.
The site of our latest project for the GSA—the Hamilton Custom House—is hard to miss at the foot of Broadway, a stone's throw from our new office.  To the west, we helped restore the aluminum-and-glass curtain wall of 77 Water Street and around the corner, the NYC Police Museum at 100 Old Slip is beautifully restored, thanks to SUPERSTRUCTURES' expertise.  A bit further to the south, we've conducted multiple projects for One New York Plaza, having served as the building's structural engineer since 1998.