We're excited to announce that, as of December 14th, we'll be up and running in our new offices at 14 Wall Street. While our physical surroundings are changing, our team's phone numbers, emails, and website are staying the same.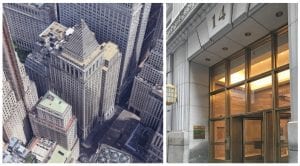 Our new home is in the former Bankers Trust Company Building (Trowbridge & Livingston, 1912). With this change of address, we'll maintain some of the best qualities of our current location: proximity to a transportation hub to get to our various project sites around the city, an inspiring space with abundant light and high ceilings, and the architectural environs of a landmarked building.
Our new office was formerly occupied by another architecture and engineering firm (Skidmore, Owings & Merrill), so it will accommodate our growing practice with a minimum of demolition and alteration—in keeping with our conviction that the greenest space is the one that already exists.
And as we reduce the amount of paper in our practice, our new office allows more space for humans and less for drawings and documents. The new office has more breakout areas with room for social distancing to keep our team and visitors safe. Faster internet connections, better bandwidth, and enhanced Wi-Fi will improve performance in our increasingly digital practice and support our campaign to bring restoration work into the 21st century.