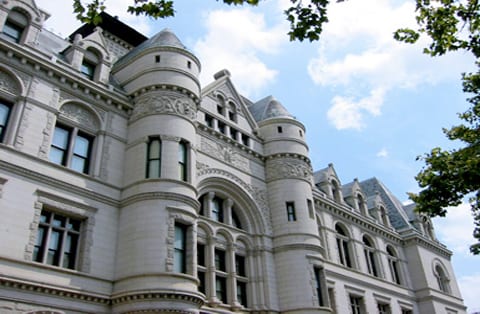 The New York Landmarks Conservancy has recognized the Conrad B. Duberstein U.S. Bankruptcy Court project in Brooklyn, NY with the prestigious Lucy G. Moses Award for outstanding preservation efforts.
The six-year, $61.7 million project included the replication of 16,000 terra cotta units, granite cladding restoration and replacement of slate roofs and gutters.
SUPERSTRUCTURES, as a member of the Construction Management team led by Lend Lease, participated as Commissioning Agent throughout the project duration. Our commissioning services encompass historic preservation, structural engineering, materials conservation, and waterproofing.
This project, with its vast amount of data, was a quintessential opportunity to enhance our commissioning services through the use of our proprietary Asset Information Manager (AIM) software.
Our team of professionals were deployed to the field, equipped with touchscreen computers running AIM. These tools facilitated the methodic recording of tens of thousands of inspections as they occurred, at discrete repair locations all over the building, during the three-year construction period.
The software tracked work progress, monitored quality, logged and managed the resolution of issues (deficiencies), and captured all the related photographs. AIM's graphic interface keyed each repair item to its physical location on the building, which ensured accuracy and efficiency as the data from the various inspectors was seamlessly integrated in the project database. Reports were generated directly from AIM. Examples included work progress reports, issue status reports, and closeout reports, all of which were distributed in summary and detailed format, and organized by work zone, as the project demanded.
The Courthouse, which now occupies an entire city block, consists of a granite structure built in 1892 and a large terra cotta addition built in 1933. The building has been designated a National Historic Landmark. The U.S. General Services Administration used a partnering approach in which the design team, construction manager, and contractors work together beginning in the earliest project stages.