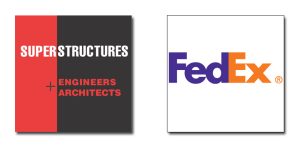 Continuing our conversation about SUPERSTRUCTURES' long-standing logo, we consider a company that's synonymous with swift delivery: FedEx.
The company's iconic logo incorporates an arrow hiding cleverly in plain sight (the negative space between the E and the x), an allusion to their reputation for on-time delivery. We're also known for on-time (and on-budget) completion of projects. The key is in the clarity and completeness of our drawings, which have been called the "gold standard" and "by far the best in the industry." Honed over forty years, our construction administration skills also help ensure that the logistics of our restoration projects go to plan.
Our logo reflects the efficiency of our solutions by avoiding superfluous graphic elements. Inspired by the bold geometry and primary colors of Constructivism, it was designed by Joe Roberts, Chair of Graphic Design at the Pratt Institute. It's also an early example of a square logo, later adopted by so many A/E firms and other companies like AmEx. A square fits well in the title block of our drawings and stands out in signage on sidewalk sheds. We also think this perfect Platonic shape suggests the seriousness and precision of our practice.
We'll continue this conversation in future posts by considering other iconic company logos.