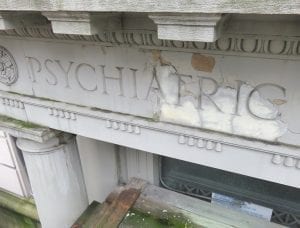 Spurred by a growing list of deficiency citations against the Bellevue Men's Shelter, the New York City Department of Design and Construction (DDC) contracted SUPERSTRUCTURES to conduct a building-wide façade investigation of the former Psychopathic Hospital building and develop a temporary stabilization program to address potentially hazardous deterioration. The DDC, Department of Homeless Services, Department of Buildings, and Construction Manager all agreed on the choice of SUPERSTRUCTURES to conduct the investigation.
To tackle this project, we used a number of tools and techniques in our arsenal, including extensive observations via boom truck as well as GigaPixel Imagery, a technology in which hundreds of high-resolution digital photographs are stitched together to create a finely detailed composite. Our onsite investigations covering 100% of the façade were completed in short order—in six weekend days and four weekdays using two different sizes of boom lifts  simultaneously to satisfy site logistics. These investigations revealed several deficiencies in emergent need of remediation, including cracked, loose, and spalling limestone and terra cotta, cracked brick masonry, and window deterioration.
Some of these deficiencies were in need of immediate attention: loose masonry was removed by hand and we identified an emergency condition at the building's main entrance requiring an overnight solution to shore its cracked limestone lintel.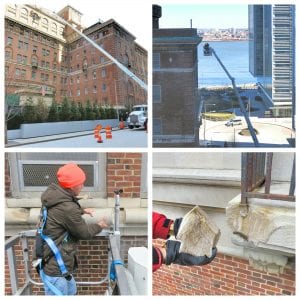 The second component of this project was to recommend temporary stabilization measures: installation of reinforced netting to contain loose masonry elements, providing metal strap reinforcement to contain failing building corners, installing temporary weatherproofing at areas susceptible to water penetration, and adding reinforcing to stabilize limestone balconies found to have structural cracks in their slabs.
Whereas other components of the Bellevue campus were designed by McKim, Mead & White (1913), the Shelter is by the lesser-known firm Thompson, Holmes & Converse with Charles B. Meyers (1930-33). Today, a concept is on the table to remake the building into "a shining example of what a homeless shelter could and should be" and we're proud to have contributed to its first step toward rehabilitation.