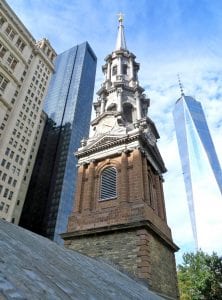 On this day in 1776, the Great Fire of New York devastated a quarter of the city, at that time comprising a densely packed triangle on the lower tip of Manhattan. Burning into the following morning, the fire destroyed most of the buildings west of Broadway and as far north as Barclay Street. There, it was stopped by the largely undeveloped campus of King's College (the future Columbia University). In the midst of this conflagration, St. Paul's Chapel, a satellite of Trinity Church, was spared thanks to the surrounding churchyard and a bucket brigade of citizens determined to save it. Trinity Church itself was destroyed, making St. Paul's the parish's home church until the second Trinity was completed in 1790 (the current church designed by Richard Upjohn is the third on the site). Today, St. Paul's is the oldest extant church in New York City and a National Historic Landmark.
Having survived the Great Fire, St. Paul's was nonetheless subject to the effects of time. Starting in 2014, SUPERSTRUCTURES directed a preservation program for the chapel's east portico, west spire, and clock tower. The steeple was re-clad in lead-coated copper and its clock faces and mechanisms repaired. The project included window, plaster, and stucco repairs. Masonry restoration included pointing, patching, dutchman repair, and select replacement of the structure's sandstone base and columns. In 2015, our restoration was awarded a Lucy G. Moses Preservation Project Award from the New York Landmarks Conservancy.
On September 11, 2001, the World Trade Center towers fell just a block to the west of St. Paul's, but the chapel was again spared. For the next nine months, it served as the site of a round-the-clock relief ministry for rescue and recovery workers from Ground Zero. Given its history, you might say St. Paul's is a survivor.