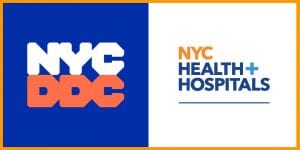 Hospitals and healthcare facilities in the New York region provide essential services for the welfare of all—especially during a widespread public health crisis such as the COVID-19 pandemic. These facilities have been on the front lines of this fight, and SUPERSTRUCTURES is proud to count many of them among our major clients for individual projects and term contracts. They've entrusted SUPERSTRUCTURES for professional architecture and engineering services to restore and renew their buildings—not just for a single project but again and again in ongoing relationships.
The New York City Department of Design and Construction (DDC) chose SUPERSTRUCTURES to conduct a building-wide facade investigation of the Bellevue Men's Shelter (Thompson, Holmes & Converse with Charles B. Meyers, 1930-33), the former Psychopathic Hospital building. This contract also included a temporary stabilization program to address potentially hazardous deterioration. SUPERSTRUCTURES' work on the Men's Shelter earned our team an outstanding evaluation from the DDC with a perfect score of 100.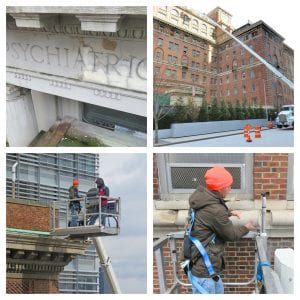 To tackle this project, we used a number of tools and techniques in our arsenal, including extensive observations via boom truck as well as GigaPixel Imagery, a technology in which hundreds of high-resolution digital photographs are stitched together to create a finely detailed composite. Our onsite investigations covering 100% of the facade were completed in short order using two different sizes of boom lifts simultaneously to satisfy site logistics.
These investigations found various deficiencies in need of remediation, including masonry and window deterioration. Some of these issues required immediate attention: loose masonry was removed by hand and a cracked limestone lintel at the building's main entrance was shored on an emergency basis. Recommended temporary stabilization measures followed: installation of reinforced netting to contain loose masonry elements, metal strap reinforcement to contain failing building corners, temporary weatherproofing, and reinforcement of cracked limestone balconies.
Now, a concept is on the table to remake this building into "a shining example of what a homeless shelter could and should be" and we're proud to have contributed to its first step toward rehabilitation.
Read Part 1 of this series here and Part 2 here.
Survey similar projects here.