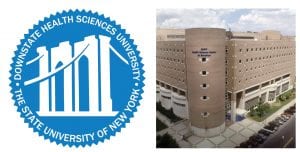 Hospitals and healthcare facilities in the New York region provide essential services for the welfare of all—especially during a widespread public health crisis such as the COVID-19 pandemic. These facilities have been on the front lines of this fight, and SUPERSTRUCTURES is proud to count many of them among our major clients for individual projects and term contracts. They've entrusted SUPERSTRUCTURES for professional architecture and engineering services to restore and renew their buildings—not just for a single project but again and again in ongoing relationships.
Part of SUNY Downstate Medical Center's Health Sciences University, the Health Science Education Center in Brooklyn is a vital facility for training the next generation of healthcare heroes. SUPERSTRUCTURES recently completed an investigation of masonry distresses at the 8th-floor roof level parapet on the facility's south elevation. Based upon the recommendations of our investigative report, SUNY Downstate decided to proceed with the investigation of structural integrity of all four of the building's facades. Following a comprehensive visual survey, areas of concern were inspected at close range from a suspended scaffold and documented in photographs and drawings. SUPERSTRUCTURES issued a final report analyzing conditions and providing recommendations for repairs, including cost estimates for the proposed work to keep the Center's facility in good health.
Our experience on the SUNY Downstate Medical Center project and scores of other New York healthcare facilities gives us the credentials to provide the full range of building envelope care—from emergency assessment to long-term rehabilitation. Better yet, we do "house calls."
Read Part 1 of this series here.
Survey similar projects here.