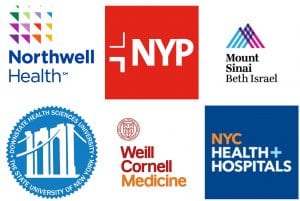 Hospitals and healthcare facilities in the New York region provide essential services for the welfare of all—especially during a widespread public health crisis such as the COVID-19 pandemic. These facilities have been on the front lines of this fight, and SUPERSTRUCTURES is proud to count many of them among our major clients for individual projects and term contracts.
While the strength of these organizations is the professionals who work tirelessly within them, the health of their facilities are also essential to their operations and must be maintained for them to function safely and efficiently. The New York City Health and Hospitals system, New York-Presbyterian Hospital, Northwell Health, and many others—all have entrusted SUPERSTRUCTURES for professional architecture and engineering services to restore and renew their buildings—not just for a single project but again and again in ongoing relationships.
All of these organizations comply with the City's Facade Inspection Safety Program (FISP, or Local Law 11). To assure public safety and to preserve asset value, their facades and roofs must be maintained safe and water tight. They retain us to investigate problems, develop solutions, prepare construction documents, and administer construction.
Whereas construction contracts are generally awarded to the lowest bidder, assignments of professional services are based on qualifications, not cost. The value SUPERSTRUCTURES offers is a well-executed project that's completed on time, on budget, and for a fair price. Agency clients also value our well-crafted construction drawings and specifications because they help avoid costly change orders and delays.
Ultimately, all of these organizations are professional clients, some with architects, engineers, and construction professionals on their selection committees. Whether you're looking for a professional opportunity yourself or professional services on behalf of your organization, shouldn't you follow their lead and get to know us?
Survey similar projects here.