At SUPERSTRUCTURES, we believe our meticulously delineated construction documents differentiate us from other firms, and enable us to minimize (and ideally eliminate) cost and schedule overruns on our clients' projects.
The creation of our construction documents starts with our upfront preparation, investigation, and analysis. We use our Non-Destructive Testing & Evaluation (NDT&E) tools, such as infrared cameras, ground penetrating radar (GPR) antennas, electrical impedance scanners, and electro-magnetic devices to observe conditions within the building or structure that are invisible to the naked eye.
In addition, when situations require, we use exploratory probes to further our understanding of the building or structure, and the problems or conditions which may exist within. Although exploratory probes are intrusive and inconvenient, our method of deploying probes, with the aid of our NDT&E equipment, minimizes their cost and impact.
When planning to use exploratory probes in a concrete column, for example, we use our NDT&E equipment to locate reinforcement in the column. So, instead of removing large areas of concrete (see images below), we strategically determine exactly where the reinforcement is and mark a small area for the probe. Working in this manner, we are able to minimize the size and number of probes to be used which, in turn, saves time and money for our clients. We also get information about rebar spacing, concrete deterioration, depth of cover, delamination due to corrosion, and other potentially useful data that could only otherwise be obtained by more probes, cores, and material testing. While we narrow the regions of invasive testing, we can widen the regions of non-invasive testing to gather even more information.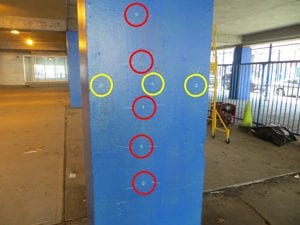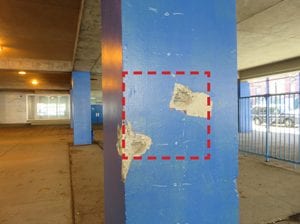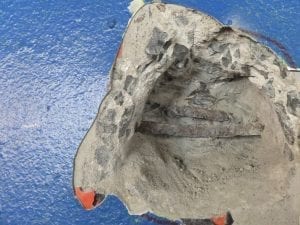 This principle also applies to targeted roof cuts and the inspection of wall ties in masonry. While gathering information on a roof or façade using NDT&E, we can minimize the number and size of probes, and correlate the two to obtain an understanding of conditions that is simultaneously broader and more precise. For each project, the rigorous investigation and analysis work we do, supported by our use of in-house NDT&E tools, translate into the construction documents we are known for.