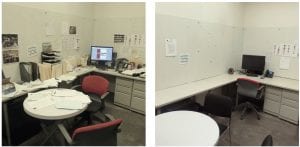 Fans of "The Office" may recall Dunder Mifflin's ironic tagline: "Limitless paper in a paperless world." Like many firms, SUPERSTRUCTURES became accustomed to collecting a lot of paper, helping to keep the Dunder Mifflins of the world in business. But our upcoming move to 14 Wall Street has encouraged new thinking when it comes to the accumulation of drawings and records.
Operating remotely during this pandemic, we've learned some lessons that will make our return to the office—and our move to a new office—more efficient. We'll be rethinking many anachronistic printouts that can be more efficiently replaced by digital files. For example, partner review of construction drawings prior to authorizing stamp and seal used to require a 11 x 17 paper set. Purchase order authorizations and contractor applications for payments generated more paper. SUPERSTRUCTURES is now handling these digitally, and will continue to do so. And our AIM Mobile app has made it easier to make field notations on drawings digitally instead of by hand.
Once our team returns to the office, reducing the amount of paper that's passed around will also help reduce the risk of spreading COVID-19. For that matter, the end-of-day "clean desk" policy we'll be implementing will make disinfecting work surfaces easier to further control the spread of the virus.
While we may never dispense with paper entirely, we're steadily reducing our reliance on it. The sheer amount of hard copy files we're faced with moving later this year is good motivation to go digital with more and more aspects of our practice.