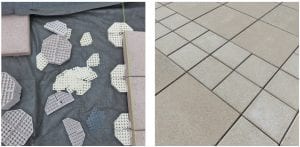 In the latest seminar in our monthly continuing education series, Harold Henry of Hanover Architectural Products presented "Plaza Pavers, Blocks, and Masonry Units." His talk on January 15th explored an array of paver assemblies and their applications for plaza decks and roofs for about 90 clients and colleagues in our classroom.
We might not give pavers much thought, as they're always under foot. But they're an important component of flat roofs, terraces, and plaza decks—ubiquitous elements of many buildings in New York. These horizontal spaces also offer prime opportunities to incorporate sustainable features in restoration designs, in keeping with our conviction that "the greenest building is the one that already exists." SUPERSTRUCTURES is well versed in the applications of paver systems, having executed a number of paver-focused projects, including the Brooklyn Public Library and Manhattan Detention Complex plazas.
Harold shared his product expertise with the assembled group, discussing systems that work in concert with environmental factors like wind and water and illustrating the importance of setting bed details to the success of any installation. Properly installed, pavers won't shift with foot or vehicular traffic, remaining an unobtrusive part of the built environment.