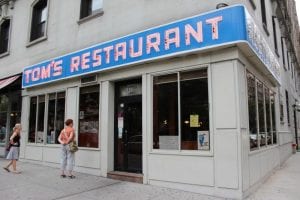 New York City to the world: Reports of our death have been greatly exaggerated…
Just ask quintessential New Yorker and comedy icon, Jerry Seinfeld. His recent op-ed in the New York Times counters current detractors declaring the demise of the New York we know and love. Working in—and for—New York City for decades, we at SUPERSTRUCTURES are doing everything in our power to ensure Jerry's right.
We've completed hundreds of projects for New York's hospitals, schools, civic buildings, public housing, and infrastructure—the buildings that keep the city running. Our elite staff of over 100 lives and works in the New York region, contributing to the talent and vitality of the city every day. We've always had an office in Manhattan and it's a great place to practice, surrounded by world-class architecture. In fact, this fall we're moving to a new space further downtown, steps away from the spot where many thought the city was doomed after 9/11. Sound familiar?
Jerry argues against the trend of "remoting" everything. We get it. But this trend doesn't mean the death of New York. For us, it does mean an arsenal of new tools we've used to get through Covid-19, and can continue using beyond the pandemic to better serve both public and private clients in the region.
As Jerry puts it, "We're going to keep going with New York City if that's all right with you. And it will sure as hell be back." That recovery is under way, and SUPERSTRUCTURES is proud to contribute to it.