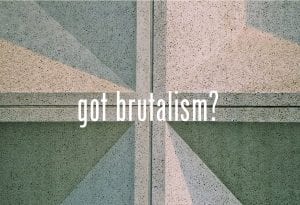 Love it or loathe it, Brutalism is here to stay. Brutalist buildings have been derided for their "soulless" aesthetics (think gray Soviet-era edifices), but that doesn't mean they have to be relegated to a dark chapter in architectural history that's best forgotten. A leader in concrete and masonry restoration, SUPERSTRUCTURES has worked on a number of Brutalist-influenced buildings and these projects highlight the expertise necessary to preserve these "ugly ducklings" of Modernism.
What is Brutalism? The term was coined by British architects Alison and Peter Smithson and popularized by architectural historian Reyner Banham in the mid-50s. The name is a nod to the French term béton brut (raw concrete) and was first associated with Le Corbusier's poured-in-place concrete buildings. From the mid-50s through the mid-70s, the style was applied to large-scale housing and higher education projects, but in the West, often "humanized" through brick cladding and more extensive glazing borrowed from the International Style. Most of SUPERSTRUCTURES' projects in New York are of this modified, "Brutalesque" sort.
In the last decade, Brutalism is being reexamined, enjoying some public and professional reassessment. The most compelling reason, highlighted in The Architect's Newspaper's recent online forum, "Heroic Concrete: Retrofitting Brutalism," is that the formidable embodied energy in these reinforced concrete and masonry structures is a factor in favor of their preservation. One of our go-to aphorisms is that "the greenest building is the one already built." In that sense, we're in the business of giving new life to existing buildings, whether they're stately cast iron landmarks or utilitarian concrete towers.
Chatham Towers (Kelly and Gruzen, 1964) is a rare example of a true "Corbusian" building in New York—the first in the city constructed from poured-in-place, board-formed concrete. SUPERSTRUCTURES' work on the towers illustrates our approach to preserving the essence of Brutalist design: As the exterior is unfinished concrete, thorough identification and remediation of spalls was essential to maintaining both the structure and appearance of the building. We also coordinated repairs to the towers' roofs, including concrete patching and railing installation, to ensure they remain safe and water tight.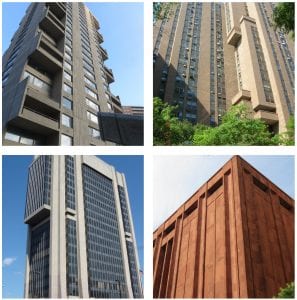 Although clad in a cavity wall of brick masonry, the Cathedral Parkway Towers in New York are emblematic of mid-70s housing with a reinforced concrete structure. Here, the structure was sound, but 340,000 bricks had to be replaced to restore the towers' envelope. Extensive as this repair was, it avoided the much greater cost and waste of embodied energy represented by reckless demolition and new construction.
Other SUPERSTRUCTURES projects such as the Adam Clayton Powell State Office Building in Harlem and NYU's Warren Weaver Hall involved complete replacement of glazing systems. In both cases, the architectural integrity of the buildings was retained while making them water tight and more energy efficient—a 21st century makeover for Brutalist-era designs.
With public sentiment toward Brutalism shifting and historic protections in place championed by organizations like Docomomo, it's less and less likely that this controversial era of modernism will be erased from the built environment. Certainly, icons of the era like Philip Johnson's Bobst Library at NYU (1972), which SUPERSTRUCTURES has restored, are unofficial landmarks which will endure regardless of protections or public regard. In any case, SUPERSTRUCTURES' role is not to evaluate the merits of any particular architectural style; our practice is focused on preserving assets of any era through the evolving art and science of restoration.