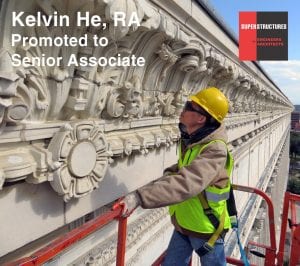 Congratulations to SUPERSTRUCTURES' Kelvin He, RA who has been promoted to Senior Associate. This promotion is a direct reflection of his professional stature and invaluable contributions to our success. Kelvin is held in high regard by his coworkers, by his colleagues in the profession, and by the firm's prestigious clients.
Kelvin joined the firm in 2001 as a field architect and draftsman, gaining experience and responsibility as he advanced to Project Manager and now, Senior Associate. One of his favorite projects from his 20 years with the firm was the Sheridan Avenue Steam Plant in Albany. It encompassed brick masonry restoration, stone restoration, slate roof replacement, plaza waterproofing, structural concrete restoration, and replacement of large, arched windows—all elements that contributed to Kelvin's expertise in exterior restoration.
When not working on SUPERSTRUCTURES' projects, Kelvin applies his architectural skills to working on his own house. "There's always something to work on, from fixing a small leak to rebuilding a porch," he says. He also dedicates a lot of time to restoring his 26-year-old car.