Is your inner private-eye up for a challenge? Submitted for your consideration: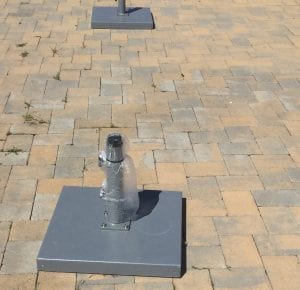 These umbrella stands at a Jersey Shore resort weigh 175 pounds each.  Lifting or sliding them is a 2-person operation – at least.
Last September both stands were perfectly aligned with the paving pattern of the pool deck. The deck has been undisturbed by snowplows or mechanical devices all winter.
This photo was taken on April 23rd. What caused the clockwise rotation of the stand in the foreground….and why didn't the stand in the background move at all?
Hint: there were 22 frost-jacking days this winter.
For the full solution to the mystery, see http://www.superstructures.com/news/frost-jacking-day-tracker/