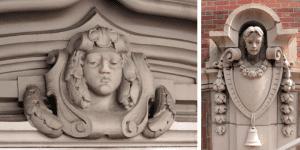 Archtober is here. This year, the month-long slate of architectural tours, talks, and events includes such prominent, ongoing SUPERSTRUCTURES projects as the Alexander Hamilton U.S. Custom House, the Brooklyn Public Library's main branch, and many of the New York buildings featuring Guastavino vaulting. And we're particularly glad to see an Archtober session called Technical Aspects of Terra Cotta Restoration, as virtually all of SUPERSTRUCTURES' award-winning preservation projects have involved terra cotta. We bring that experience to every piece of the material we assess and restore, whether on a landmarked building or not.
Sometimes mistaken for carved limestone, terra cotta (Latin for "cooked earth") ornamentation on building facades proliferated around the turn of the twentieth century because it was an efficient way to reproduce neoclassical ornament on a large scale.
Terra cotta is porous and, in this climate, water has a way of getting into pieces—many of which are hollow. Inside, iron anchors can rust from that water infiltration and cause the piece to crack or become loose and potentially hazardous. Photographic documentation often isn't enough to assess the integrity of terra cotta. Sounding it by hand (gently tapping with a mallet) is a more reliable method to determine its condition.
Three decades ago, when the terra cotta ornamentation on a Park Avenue landmark clearly required replacement, the contractor asked us, "What would you like to use…precast? GFRC? Fiberglass?" The concept of replacing terra cotta in kind never occurred to him. Back then, there was less emphasis on preservation and faithful terra cotta alternatives were less sophisticated than they are today.
We've come a long way since then and terra cotta is being reconsidered as a first choice. In the case of SUPERSTRUCTURES' work on John Jay College's Haaren Hall, where some 2,000 pieces of terra cotta required restoration, we ironically specified that earlier GFRC substitutions be replaced with terra cotta, while improving the elements' anchors to secure them for decades to come.