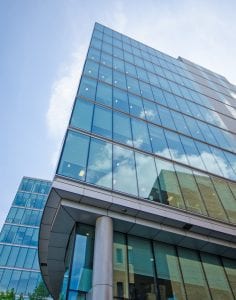 Tempus fugit. Time flies. No matter how you say it, the expression holds true when you have a "new" building. If your building is just five years old, an Initial FISP/Local Law 11 report may be due.
People typically think that FISP/Local Law 11 mandates vigilance against bricks or terra cotta crashing to the sidewalk from the facades of older buildings. That's certainly true, but many buildings as "youthful" as five years old are also subject to the requirements of NYC's Facade Inspection Safety Program (FISP).
The Department of Buildings (DOB) does not send five-year notifications, so it falls to building owners to check the calendar and file a timely FISP Critical Examination Report with the DOB.
Pursuant to DOB Rule 103-04 applicable to buildings greater than six stories in height: if the five-year anniversary* of the first Certificate of Occupancy or Temporary CO falls within the applicable Cycle 9 sub-cycle (determined by the building's block number) a report is due during the applicable Cycle 9 sub-cycle, as summarized graphically below.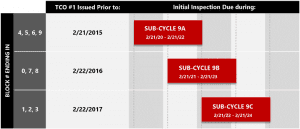 Hint: If your building falls within sub-cycle 9A, the initial FISP report is due prior to February 21, 2022—less than one year away. Time for action is required.
If the building's five-year anniversary falls after the applicable Cycle 9 sub-cycle, the building gets a "bye" and the initial report is not due until the applicable sub-cycle of Cycle 10 (2025-2029).
Initial FISP Critical Examination Reports are also required for previously "non-applicable" buildings, which have been enlarged vertically to exceed six stories (or more) in height, upon the five-year anniversary of the first CO or TCO indicating the additional stories.
For many new buildings, tenant occupancy may have occurred significantly after the issuance of the initial TCO or CO, so it is wise to check the date of issue.
In Cycle 9, the DOB FISP Rule has been greatly expanded to include more scaffold "drops" (or another observation platform method) than in previous cycles. Cycle 9 also mandates an equal number of probes of masonry cavity walls—common in many recently constructed buildings. On the bright side, the mandated probes are not required in the initial inspection cycle if the DOB is shown adequate evidence that the cavity walls have been constructed per code requirements.
We're happy to confirm the filing status of your building or send you a proposal for a Cycle 9 FISP Critical Examination Report. Please contact us.
*The date of TCO #1 (or first CO if no TCO's) for a recently constructed new building as well as the Block number can be obtained from the DOB Buildings Information System (BIS) website.