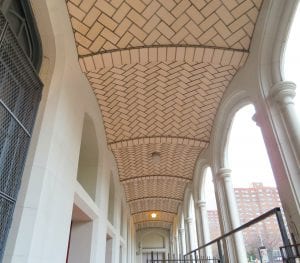 When students return to Brooklyn's George Westinghouse High School today, they'll be walking in the footsteps of Jay-Z and the Notorious B.I.G. This year, they'll also be walking under the school's loggia featuring newly restored, Guastavino-tiled vaulting. SUPERSTRUCTURES helped preserve the school's vaults as part of our Lucy G. Moses Preservation Award-winning exterior restoration.
Famed Spanish designer Rafael Guastavino may not have the star power of Jay-Z, but he made his mark on the school along with its Hip Hop alumni. To restore the Guastavino vaults, we specified that loose grout be removed, cracked terra cotta tiles repaired with micro-crack injection grout, and tiles replaced where necessary. These were installed in a quick-set mortar and their characteristic raised grout was restored.
Soon after emigrating to the U.S. in 1881, Guastavino became synonymous with his patented "Tile Arch" system based on the Moorish architecture of 14th century Spain. His system combined three qualities: it was structural, it provided a decorative pattern, and, most desirable of all, it was fireproof. The decorative quality of Guastavino's system was also neutral enough that it quietly complemented a range of historical revival styles. In Westinghouse High School, its contribution to the Collegiate Gothic building is "hiding in plain sight," forming the ribbed vaults of the school's Tillary Street-facing loggia.
Other buildings in SUPERSTRUCTURES' project portfolio that incorporate Guastavino's innovations include the arcade of the Manhattan Municipal Building, Kykuit, the Rockefeller estate near Sleepy Hollow, NY and the New York State Education Building, a Beaux-Arts tour de force in Albany. Each of these examples offers a window on a unique, historic material and building technology inspired by the past—and ahead of its time.