In SUPERSTRUCTURES' practice, the essence of the Hippocratic Oath—"Do no harm"—is prime inspiration for our approach to restoration. This aphorism informs our entire approach, from non-destructive testing to precise design documents that minimize the invasiveness of necessary restoration procedures. Our practice of providing "second opinions" when a controversial treatment is proposed—whether internally or by others—also echoes the practice of medicine. And there are other ways in which the medical field informs our work.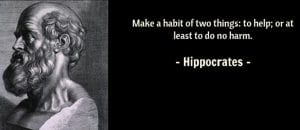 Medicine employs ongoing research to benefit future patients. For example, New York's Hospital for Special Surgery (HSS) is the top national center for orthopedic procedures for one crucial reason: they've done thousands of hip, knee, and other replacement procedures, a process that continually improves their practice. SUPERSTRUCTURES follows their lead in that we've successfully executed thousands of building restoration projects—on time and within budget—and the knowledge gained from that experience benefits each new client and project. HSS's highly focused specialty makes them the best; similarly, because we do more facade examination and restoration projects than any other firm, making us a leader in the field. And like an expertly executed orthopedic procedure, a successful restoration project is one where you don't even know we've been there.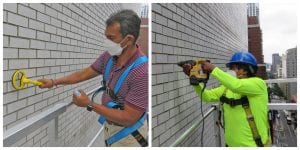 L: Using a pachometer to locate and mark wall ties; R: Drilling small "incisions" for cavity wall probes
Recently, we've begun employing a new procedure for cavity wall inspection with a sophisticated borescope and four new pachometers (metal detectors). Together, they can detect the presence and state of wall ties with greater precision, minimizing the impact on masonry by greatly reducing the need for traditional, invasive probes. Think of it as the building envelope equivalent of exploratory arthroscopic surgery: small incisions subject the "patient"—in this case, a building—to less trauma. Like the HSS, we apply new equipment and innovative procedures to improve our craft.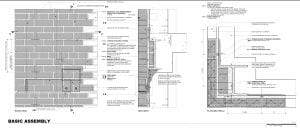 The precision of our design documents drives a "surgical" approach to facade restoration
SUPERSTRUCTURES has looked to many other fields—technology, insurance, hospitality—to inspire and advance our practice, but medicine has proved uniquely fundamental to our approach. We've often been able to save structures that others had advocated removing and replacing, allowing our patient maximum continuity with its past life.
While buildings aren't living things per se, we treat them similarly. They have complex, interconnected systems that are subject to their original materials and structure, age, and environmental factors. Sound familiar?