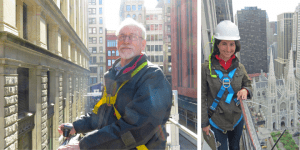 QEWI. No, it's not the latest Tik Tok. It stands for Qualified Exterior Wall Inspector and, if you're a building owner or manager, you'll want to become familiar with the term.
The Department of Buildings defines a QEWI as a New York State-registered Architect or Professional Engineer with at least seven years of relevant experience with facades over six stories. More importantly, the building inspections mandated by New York City's Facade Inspection Safety Program (FISP) must be conducted and signed by a QEWI, making them essential to the FISP compliance process.
When you think of QEWIs, think of SUPERSTRUCTURES. Why? Because we have twice as many QEWIs on our team as comparably sized firms in our field, and even more on deck ready to qualify. Most of them have close to twenty years of experience. This deep bench means we have the capacity to handle our clients' FISP-related projects, underscoring our exterior restoration expertise and our commitment to our practice.
SUPERSTRUCTURES has been in business for 40 years—since before the first incarnation of FISP (Local Law 10 of 1980)—so our QEWIs know the law's requirements inside and out. They're the vanguard of our practice, representing the collective experience of our entire team of architects, engineers, and technicians.
Our QEWIs are seasoned inspectors, but more critically, they're experts in developing solutions—translating inspection findings seamlessly into design documents that set the standard for the profession. We specialize in producing tight drawings that follow the "four Cs," so they're clear, correct, concise, and complete. They provide a rational roadmap for contractors, minimizing reliance on written specifications that can cause costly misunderstandings and change orders.
Our QEWIs and their colleagues in the firm are committed to a common-sense approach to each project, finding the right design solutions and the most appropriate materials for each restoration detail. We also apply our extensive experience coordinating contractors to help find the best fit for each project. Along with our exemplary design documents, this approach helps deliver on-time, on-budget projects, typically with change orders of only 3% or less. The bottom line for our clients: increased value across the entire life cycle of a project, from FISP inspection to fully restored facade.
Need a QEWI for your facade? Contact us >